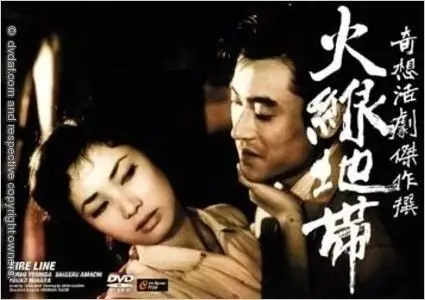 Black Line (1960)
DVDRip | AVI | 656x304 | XviD @ 1079 Kbps | 80 min | 698 Mb
Audio: Japanese (日本語) MP3 @ 128 Kbps | Subs: English (srt)
Genre: Crime
Freelance reporter "Scoop" Machida is hot on the trail of a prostitution ring called the Black Line, when he is framed for the murder of a young woman. Forced to clear his own name, the handsome journalist sinks deeper into the Black Line's rotten swamp of drugs, prostitution, and murder and finds unexpected help in Maya, a steamy female gambler familiar with the neon-lit streets, shadowy alleyways, and seedy nightclubs he must navigate. The closest film in the Line series to classic American film noir, Ishii's Black Line is a pulpy assortment of crime film conventions including the starkly expressionistic black and white cinematography by Jûgyô Yoshida, a jazzy music score by Michiaki Watanabe, and a sleazy screenplay by Ishii and Ichirô Miyagawa.
(click to enlarge)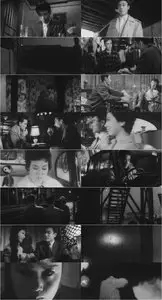 Teruo Ishii's Line series:
- Yellow Line (1960)
- Black Line (1960)
- Sexy Line (1961)
- Fire Line (1961)
My Blog