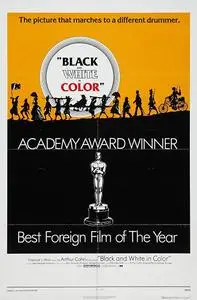 Black and White in Color (1976)
DVDRip | MKV | 672x480 | x264 @ 1800 Kbps | 91 min | 1,28 Gb
Audio: Français AC3 2.0 @ 192 Kbps | Subs: English (embedded)
Genre: Comedy, Drama, War
Director
: Jean-Jacques Annaud
Writers
: Georges Conchon (original screenplay), Jean-Jacques Annaud (original screenplay)
Stars
: Jean Carmet, Jacques Dufilho, Catherine Rouvel
French colonists in Africa, several months behind in the news, find themselves at war with their German neighbors. Deciding that they must do their proper duty and fight the Germans, they promptly conscript the local native population. Issuing them boots and rifles, the French attempt to make "proper" soldiers out of the Africans. A young, idealistic French geographer seems to be the only rational person in the town, and he takes over control of the "war" after several bungles on the part of the others.
It is more than 20 years since I saw BLACK AND WHITE IN COLOR, but this lovely and masterful film still stands out in my memory as a great movie-going experience. What remains after twenty years? The delicate sense of humor and irony which skewers the irrational nationalistic fervor that prevents people from seeing the truth before their eyes and the feelings in their hearts; the extraordinary beauty of the images drawn from the saturated African light; the awful sadness I felt, as comedy descended into tragedy, and I realized that this absurd situation was terribly real, terribly true.

I don't know if this film is available on video, but certainly , in whatever venue, it is an opportunity not to be missed.
(click to enlarge)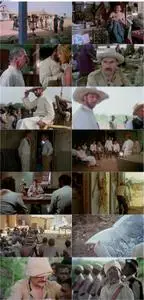 More in My Blog