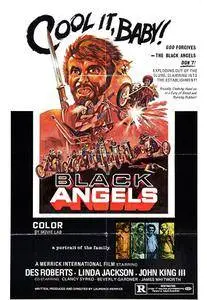 Black Angels (1970)
DVDRip | MKV | 720x408 | x264 @ 2190 Kbps | English AC3 2.0 @ 192 Kbps | 85 min | 1,42 Gb
Genre: Drama
Director:
Laurence Merrick
Writer:
Laurence Merrick
Stars:
Des Roberts, John King III, Linda Jackson
Racially-oriented motorcycle gangs battle it out in this violent film when a black biker spy infiltrates the white gang. The real-life Choppers were hired for this feature. Not to be confused with the 1970 Bulgarian film whose English language title is Black Angels.
For years, two motorcycle gangs–the white Serpents and the black Choppers–have been locked in fierce rivalry, united only by their mutual hatred for a local police officer, Lieutenant Harper, who would like to see the two groups destroy each other. A newly-initiated Chopper is killed in a fight with Chainer, the leader of the Serpents, and Harper's wish moves closer to becoming a reality. After the Serpents accept new biker Johnny Reb into their ranks, they ride into town to mete out punishment to a renegade member. There Chainer is ambushed by four Choppers, but Johnny Red mysteriously appears and saves his life. Returning to their hideout, the gang launches a wild party, which Johnny Reb further enlivens by passing out illegal pills. As the gang eventually becomes drowsy and vulnerable from the pills' aftereffects, one of the cyclists, Frenchy, discovers that Johnny Reb is actually a black Chopper passing for white. Before Frenchy can warn the others, however, Johnny Reb stabs him to death and then signals the Choppers to attack. The two evenly matched gangs massacre each other while Lieutenant Harper happily observes the bloodbath from a distant hilltop.
(click to enlarge)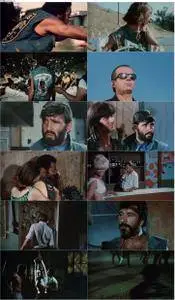 More in My Blog