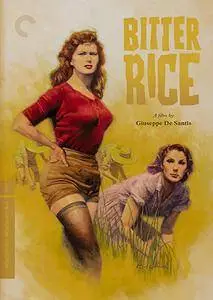 Director:
Giuseppe De Santis
Writers:
Giuseppe De Santis, Carlo Lizzani
Stars:
Vittorio Gassman, Doris Dowling, Silvana Mangano
Francesca and Walter are two-bit criminals in Northern Italy, and, in an effort to avoid the police, Francesca joins a group of women rice workers. She meets the voluptuous peasant rice worker, Silvana, and the soon-to-be-discharged soldier, Marco. Walter follows her to the rice fields, and the four characters become involved in a complex plot involving robbery, love, and murder.
Extras:
- Giuseppe De Santis, a 2008 documentary by screenwriter Carlo Lizzani
- Interview with Lizzani from 2003
- Trailer


Title: BitterRice.49.Cr.D9
Size: 7.77 Gb ( 8 148 134,00 KBytes ) - DVD-9
Enabled regions: 1, 2, 3, 4, 5, 6, 7, 8

VTS_01 :
Play Length: 00:00:00
Video: NTSC 4:3 (720x480) VBR

VTS_02 :
Play Length: 01:49:00
Video: NTSC 4:3 (720x480) VBR
Audio:
Italiano (Dolby AC3, 1 ch)
Subtitles:
English

VTS_03 :
Play Length: 00:00:20
Video: NTSC 4:3 (720x480) VBR

VTS_04 :
Play Length: 00:06:38
Video: NTSC 16:9 (720x480) VBR, Auto Letterboxed
Audio:
Italiano (Dolby AC3, 1 ch)
Subtitles:
English

VTS_05 :
Play Length: 00:03:22
Video: NTSC 4:3 (720x480) VBR
Audio:
Italiano (Dolby AC3, 1 ch)
Subtitles:
English

VTS_06 :
Play Length: 00:52:30
Video: NTSC 16:9 (720x480) VBR, Auto Letterboxed
Audio:
Italiano (Dolby AC3, 1 ch)
Subtitles:
English

VTS_07 :
Play Length: 00:00:00
Video: NTSC 4:3 (720x480) VBR