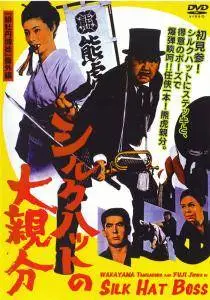 Shiruku hatto no ô-oyabun / Big Boss in a Silk Hat (1970)
Japanese | DVDRip | AVI | 656x272 | XviD @ 1124 kb/s | 795 MB
Audio: MP3 @ 116 kb/s | 2 channels | 01:28:41 minutes | Subs: English (idx/sub files)
Genre: Crime
In a strange outfit and full of youthful energy, the explosive Boss Kumatora raises hell like there's no tomorrow. The first movie of a new series starring Wakayama Tomisaburo as everybody's favorite character Boss Kumatora from the Red Peony Gambler series. Having made a fortune in the Russo-Japanese War, the Kumatora Family migrates to Kyushu to take on a military-related job. There they encounter the evil and malicious interference of the Chindai family of Kumamoto, and Boss Kumatora boldly fights back with the help of O'Ryu the Red Peony. A super entertaining film with non-stop comedy and action directed by Suzuki Norifumi.