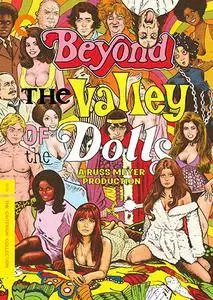 Beyond the Valley of the Dolls (1970) [Criterion Collection]
DVD Video, 2 x DVD9 | NTSC 16:9 | 720x480 | 1hr 49mn | 7.27 Gb + 7.17 Gb
English: Dolby AC3, 1 ch
Subtitles: English
Genre: Comedy, Drama, Music
IMDB Rating: 6.3/10 (7.878 votes)
Director:
Russ Meyer
Writers:
Roger Ebert (screenplay), Roger Ebert (story)
Stars:
Dolly Read, Cynthia Myers, Marcia McBroom
This film is a sequel in name only to Valley of the Dolls (1967). An all-girl rock band goes to Hollywood to make it big. There they find success, but luckily for us, they sink into a cesspool of decadence. This film has a sleeping woman performing on a gun which is in her mouth. It has women posing as men. It has lesbian sex scenes. It is also written by Roger Ebert, who had become friends with Russ Meyer after writing favorable reviews of several of his films.


Title: BeyondTheValleyOfTheDolls.70.D9.D1
Size: 7.27 Gb ( 7 627 040,00 KBytes ) - DVD-9
Enabled regions: 1, 2, 3, 4, 5, 6

VTS_01 :
Play Length: 00:00:00
Video: NTSC 16:9 (720x480) VBR, Auto Letterboxed

VTS_02 :
Play Length: 01:49:14
Video: NTSC 16:9 (720x480) VBR, Auto Letterboxed
Audio:
English (Dolby AC3, 1 ch)
English (Dolby AC3, 1 ch)
English (Dolby AC3, 1 ch)
Subtitles:
English

VTS_03 :
Play Length: 00:00:20
Video: NTSC 16:9 (720x480) VBR, Auto Pan&Scan

VTS_04 :
Play Length: 00:29:59
Video: NTSC 16:9 (720x480) VBR, Auto Letterboxed
Audio:
English (Dolby AC3, 2 ch)

VTS_05 :
Play Length: 00:00:12
Video: NTSC 16:9 (720x480) VBR, Auto Letterboxed
Audio:
English (Dolby AC3, 1 ch)

VTS_06 :
Play Length: 00:02:30
Video: NTSC 16:9 (720x480) VBR, Auto Letterboxed
Audio:
English (Dolby AC3, 1 ch)

VTS_07 :
Play Length: 00:02:02
Video: NTSC 4:3 (720x480) VBR
Audio:
English (Dolby AC3, 1 ch)

VTS_08 :
Play Length: 00:02:45
Video: NTSC 4:3 (720x480) VBR
Audio:
English (Dolby AC3, 1 ch)

VTS_09 :
Play Length: 00:01:24
Video: NTSC 4:3 (720x480) VBR
Audio:
English (Dolby AC3, 1 ch)

VTS_10 :
Play Length: 00:00:00
Video: NTSC 16:9 (720x480) VBR, Auto Letterboxed

–––––––––––––––––––––––––-

Title: BeyondTheValleyOfTheDolls.70.D9.D2
Size: 7.17 Gb ( 7 513 086,00 KBytes ) - DVD-9
Enabled regions: 1, 2, 3, 4, 5, 6

VTS_01 :
Play Length: 00:00:00
Video: NTSC 16:9 (720x480) VBR, Auto Letterboxed

VTS_02 :
Play Length: 00:38:16
Video: NTSC 4:3 (720x480) VBR
Audio:
English (Dolby AC3, 2 ch)

VTS_03 :
Play Length: 00:29:41
Video: NTSC 16:9 (720x480) VBR, Auto Letterboxed
Audio:
English (Dolby AC3, 1 ch)

VTS_04 :
Play Length: 00:12:20
Video: NTSC 16:9 (720x480) VBR, Auto Letterboxed
Audio:
English (Dolby AC3, 2 ch)

VTS_05 :
Play Length: 00:07:33
Video: NTSC 16:9 (720x480) VBR, Auto Letterboxed
Audio:
English (Dolby AC3, 2 ch)

VTS_06 :
Play Length: 00:04:18
Video: NTSC 16:9 (720x480) VBR, Auto Letterboxed
Audio:
English (Dolby AC3, 2 ch)

VTS_07 :
Play Length: 00:08:15
Video: NTSC 16:9 (720x480) VBR, Auto Letterboxed
Audio:
English (Dolby AC3, 2 ch)

VTS_08 :
Play Length: 00:07:28
Video: NTSC 4:3 (720x480) VBR
Audio:
English (Dolby AC3, 1 ch)

VTS_09 :
Play Length: 00:10:57
Video: NTSC 16:9 (720x480) VBR, Auto Letterboxed
Audio:
English (Dolby AC3, 2 ch)

VTS_10 :
Play Length: 00:49:18
Video: NTSC 4:3 (720x480) VBR
Audio:
English (Dolby AC3, 1 ch)

VTS_11 :
Play Length: 00:00:00
Video: NTSC 16:9 (720x480) VBR, Auto Letterboxed


Extras DVD1:
- Audio Commentaries
- Above, Beneath and Beyond the Valley
- Trailers
Extras DVD2:
- Interviews
- Screen Tests
- Archival Programs