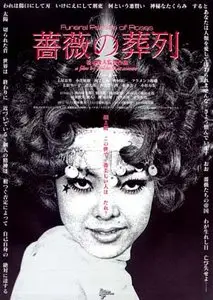 Funeral Parade of Roses (1969)
Japanese DVD5 | ISO | NTSC 4:3 | 01:44:16 | 4,49 Gb
Audio: Japanese AC3 2.0 @ 384 Kbps | Subs: English
Genre: Art-house, Drama
Director:
Toshio Matsumoto
Writer:
Toshio Matsumoto
Stars:
Pîtâ, Osamu Ogasawara, Yoshimi Jô
It's an art film, an exploitation film, a Mondo movie, a drug movie and what ever other subgenres you can think of all rolled into one brilliant piece of work. It's the story of Eddie, an exceptionally beautiful transvestite and one of the top hostesses in one of Japan's most popular gay nightclubs. Eddie has an obsessive love for the club owner who's already involved with the clubs "madam", a jealous and aging transvestite. And Eddie has strange flashbacks to his childhood: his non-existent father and the cloudy and strange memories of his mother. He has a picture hidden in his apartment - but the face of his father was burned out of the picture by his mother years ago. As the film progresses, we travel deeper into Eddie's mind, piecing together the horrible truth about his strange and violent past.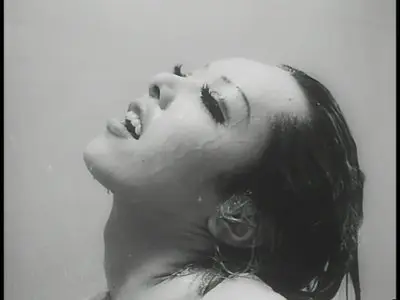 Anyone up for an avant garde gore/gay/mondo/Japanese version of Oedipus Rex crossed with A Hatchet for the Honeymoon? Well, look no further than Bara no sôretsu, christened in English as Funeral Parade of Roses (and also known as Funeral Procession of Roses). Packed with pop art visuals, cheeky references to Jean Genet, swinging music, and the most thorough audience disorientation outside of a Jodorowsky film, this unique fusion of art house pretense and giddy exploitation is not for the faint of heart but well worth seeking out.




Gender-bending actor Peter (best remembered as the Fool from Akira Kurowsawa's Ran and the madam from Fruits of Passion) stars as cross-dressing club kid Eddie, first seen in the arms of Gureko (Furamenko Umeji), owner of the Genet Bar in Shinjuku. Tormented as a teenager, Eddie is plagued by hallucinatory, violent memories of his late mother burning his father's face out of a photograph which he now keeps as the only keepsake of his family. Meanwhile he's also fighting for Gureko's heart, since the older man is also being wooed by the nightclub's queen bee, Leda (Ogasawara Osamu). The feud leads to a nasty catfight and a glamorous funeral, with the escalating drama finally exploding in a bloody, startling climax. Along the way the film is interspersed with "man on the street" interviews with various men of all stripes and a few drag queens, with even the cast getting in on the action to make the film even stranger.




Packed with bizarre tonal shifts and deliberate distancing devices (inserts of film leader, startling insertions of animation and paintings, comic-style dialogue balloons popping out of characters' mouths), Funeral Parade of Roses has been cited in several sources as an influence on Stanley Kubrick's A Clockwork Orange (presumably for its whiplash editing, youth gang imagery and sped-up montage sequence); whatever the case may be, it's surprising the film doesn't enjoy a larger reputation as it's easily more accessible than anything by, say, Koji Wakamatsu. Certain aspects have dated, such as the mod clothes and the occasional wallowing/self-pitying attitude common at the time (see Boys in the Band or The Killing of Sister George for more flagrant examples); however, for the most part the film plays quite well and benefits by draping its flamboyant techniques on a traditional tragic story. The gruesome, cleverly executed payoff is worth the price of admission alone, with some jolting eyeball mayhem that would make Lucio Fulci stand up and applaud.




Japanese DVD features an extremely good transfer in the original 1.33:1 aspect ratio. Contrast and black levels are dead on, and detail level is fine. The optional English subtitles are literate and easy to read, while the mono audio is clear enough though not particularly powerful. Extras include a nifty theatrical trailer and a video interview (in Japanese only) with director Toshio Matsumoto.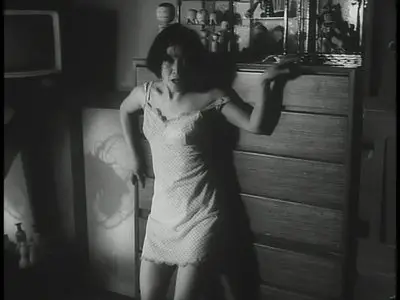 In 1955, Silver Wheels, Toshio Matsumoto's now lost collaboration with avant-garde composer Toru Takemitsu, helped inaugurate postwar Japanese experimental film. Since then, Matsumoto has embodied the mobility of Japanese experimental video and film with a career that spans work in criticism, theater, documentary, and independent filmmaking. Matsumoto's drag-queen melodrama Funeral Parade of Roses is a unique film that borrows the not-yet-politicized phenomenon of male homosexuality in 1969 Japan to launch a potent critique of Japanese society at the apex of high-growth economics. A classic in Japan's New Wave tradition, Funeral Parade dazzles in its humorous amalgamation of documentary, narrative, and visual experimentation.


Jonathan M. Hall and Michelle Puetz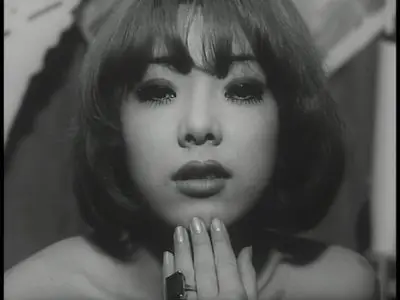 Special Features (in Japanese w/o subs):
- Audio commentary by the director Toshio Matsumoto
- Interview with director Toshio Matsumoto (23 mins)
- Trailer
- Photo Gallery
- Filmography
Many Thanks to mikeattacks.