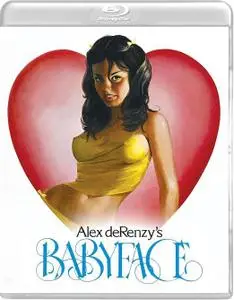 Babyface (1977) + Extras
BDRip 720p | MKV | 1280 x 720 | x264 @ 2560 Kbps | 1h 45mn | 2,01 Gb + 625 Mb
Audio: English AC3 1.0 @ 160 Kbps | Subtitles: None
Genre: Comedy, Erotic
Priscilla is a tease, flirting with every man she meets. When her mother catches her with Dan, a dockhand, Priscilla accuses the man of attacking her, resulting in a shoot out from which he's left for dead. However, Dan is quickly rescued by two women, who put him to work at an all male brothel with an exclusively female clientele. Becoming fast friends with the other 'studs', Dan soon finds a new home, that is, until he's warned about the notorious 'nutcracker'.
This Film Contains Explicit Nudity and Actual Sex Scenes
A great movie!!! I saw this at age 14 after finding a pirate copy in my dads room. Stand out scene has to be the Paul Thomas/Patricia Lee scene with Amber Hunt joining in half way through. Porno Perfection, I have never, ever seen another scene which matches this for its eroticism and intensity. I cannot believe that no one else has mentioned it. Also the Dan Roberts/Linda Wong and Amber Hunt scene on the house boat is not bad, I would not have minded being bathed by those two!! I could really take or leave the rest of the 'scenes' but at least this move has a plot and is shot well. Please, please, please, does anybody know where we can find the DVD for this? A crime it has not been released.
(Enlargeable)

Extras:
– Audio Interview with actress Molly Seagrim (109:37)
– "Parochial Passion Princess" short film (12:31)