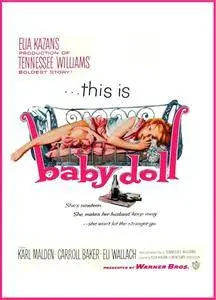 Baby Doll (1956)
WEB-DL 720p | MKV | 988 x 720 | x264 @ 4054 Kbps | 1h 54mn | 3,33 Gb
Audio: English AAC 2.0 @ 106 Kbps | Subtitles: English (embedded)
Genre: Drama | Director: Elia Kazan
Baby Doll focuses on a feud between two rival cotton gin owners in rural Mississippi; after one of the men commits arson against the other's gin, the owner retaliates by attempting to seduce the arsonist's nineteen-year-old virgin bride with the hopes of receiving an admission by her of her husband's guilt.
The film was controversial when it was released due to its implicit sexual themes, provoking a largely successful effort to ban it, waged by the Roman Catholic National Legion of Decency. Nevertheless, the film received multiple nominations for major awards and performed decently at the box office.
Kazan won the Golden Globe Award for Best Director and the film was nominated for four other Golden Globe awards, as well as four Academy Awards and four BAFTA Awards awards, with Eli Wallach taking the BAFTA prize for "Most Promising Newcomer to Film."
The film is credited with originating the name and popularity of the babydoll nightgown, which derives from the costume worn by Baker's character. The film was featured in The New York Times' Guide to the Best 1,000 Movies Ever Made.
IMDB
- Nominated for 4 Oscars
(Enlargeable)