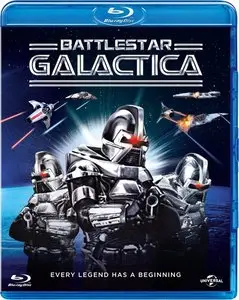 Battlestar Galactica / Звездный крейсер Галактика (1978)
Blu-Ray | BDMV | AVC, 1920x1080, ~31.4 Mbps | 2hr 04mn | 36,0 GB
English: DTS-HD MA, 6 ch, 2260 kbps; Japanese \ French \ German \ Italian \ Portuguese \ Spanish: AC3, 2 ch, 448 kbps
Subtitles: Japanese, English, French, Italian, German, Spanish, Portuguese, Czech, Danish, Dutch, Finnish, Greek, Hungarian, Korean, Norwegian, Polish, Russian, Swedish, Thai, Turkish, Chinese
Genre: Action | Adventure | Sci-Fi
IMDB Rating: 6.8/10 (6.523 votes)
Director:
Richard A. Colla, Alan J. Levi
Writers:
Glen A. Larson
Stars:
Richard Hatch, Dirk Benedict, Lorne Greene
The story of how the Twelve Colonies of Mankind are destroyed after 1,000 years of war with the evil Cylon Empire. Through deceit, the Cylons are able to destroy the Colonies' entire fleet, except for the Battlestar Galactica, captained by Commander Adama. Adama gathers up the few remaining humans left on all the twelve worlds and embarks on a journey to find the mythical planet Earth, the supposed thirteenth colony, lost millennia ago when humans first left the motherworld Kobol. With food and fuel running out, the fleet heads for a mineral planet, Carillon, hoping to get what they need. The Ovions, who populate the planet, are being controlled by the Cylons, who set a trap for the Galactica. Under a clever ruse, Adama convinces the Cylons that his pilots are on the surface at a banquet, while the real pilots are at full combat readiness. The fleet gets their food and fuel, and escapes, destroying Carillon and a Cylon Baseship hiding behind the planet.


DISC INFO:

Disc Title: B2tlstrGlctc.78.BR.EUR
Disc Size: 38 742 735 750 bytes
Protection: AACS
BD-Java: Yes
BDInfo: 0.5.8

PLAYLIST REPORT:

Name: 00801.MPLS
Length: 2:04:24.665 (h:m:s.ms)
Size: 37 720 786 944 bytes
Total Bitrate: 40,43 Mbps

VIDEO:

Codec Bitrate Description
––- –––- –––––-
VC-1 Video 31373 kbps 1080p / 23,976 fps / 16:9 / Advanced Profile 3

AUDIO:

Codec Language Bitrate Description
––- –––– –––- –––––-
DTS Audio Japanese 448 kbps 2.0 / 48 kHz / 448 kbps / 24-bit
DTS-HD Master Audio English 2260 kbps 5.1 / 48 kHz / 2260 kbps / 24-bit (DTS Core: 5.1 / 48 kHz / 1509 kbps / 24-bit)
DTS Audio French 448 kbps 2.0 / 48 kHz / 448 kbps / 24-bit
DTS Audio Italian 448 kbps 2.0 / 48 kHz / 448 kbps / 24-bit
DTS Audio German 448 kbps 2.0 / 48 kHz / 448 kbps / 24-bit
DTS Audio Spanish 448 kbps 2.0 / 48 kHz / 448 kbps / 24-bit
DTS Audio Portuguese 448 kbps 2.0 / 48 kHz / 448 kbps / 24-bit
DTS Audio Spanish 448 kbps 2.0 / 48 kHz / 448 kbps / 24-bit

SUBTITLES:

Codec Language Bitrate Description
––- –––– –––- –––––-
Presentation Graphics Japanese 20,635 kbps
Presentation Graphics English 46,807 kbps
Presentation Graphics French 42,595 kbps
Presentation Graphics Italian 39,714 kbps
Presentation Graphics German 47,229 kbps
Presentation Graphics Spanish 40,241 kbps
Presentation Graphics Portuguese 38,436 kbps
Presentation Graphics Spanish 41,113 kbps
Presentation Graphics Czech 39,640 kbps
Presentation Graphics Danish 39,534 kbps
Presentation Graphics Dutch 33,093 kbps
Presentation Graphics Finnish 36,508 kbps
Presentation Graphics Greek 43,608 kbps
Presentation Graphics Hungarian 41,943 kbps
Presentation Graphics Korean 26,597 kbps
Presentation Graphics Norwegian 39,158 kbps
Presentation Graphics Polish 39,809 kbps
Presentation Graphics Portuguese 43,229 kbps
Presentation Graphics Russian 40,304 kbps
Presentation Graphics Swedish 37,860 kbps
Presentation Graphics Thai 29,821 kbps
Presentation Graphics Turkish 42,028 kbps
Presentation Graphics Chinese 30,578 kbps
Presentation Graphics Japanese 0,064 kbps
Presentation Graphics French 0,308 kbps
Presentation Graphics Italian 0,346 kbps
Presentation Graphics German 0,360 kbps
Presentation Graphics Spanish 0,370 kbps
Presentation Graphics Portuguese 0,186 kbps
Presentation Graphics Spanish 0,352 kbps

––––––––––––––––––––––––––––––-