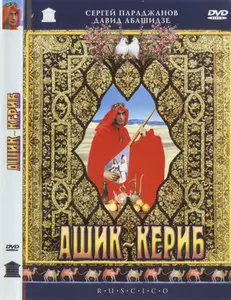 Ashik Kerib / Ashug-Karibi / Ашик-Кериб (1988)
DVD Video | 1hr 13mn | PAL 4:3 | 720x576 | 7.01 GB
Georgian(Original) \ Russian \ Georgian: Dolby AC3, 6 ch
Subtitles: Russian, English, French, German, Spanish, Italian, Portuguese, Dutch, Swedish, Hebrew, Arabic, Chinese, Japanese
Genre: Drama
IMDB Rating: 7.5/10 (887 votes)
Кинопоиск 7.320/10 (348 votes)
Director:
Sergei Parajanov, Dodo Abashidze
Writers:
Gia Badridze (as Georgy Badridze) , Mikhail Lermontov (story)
Stars:
Yuri Mgoyan, Sofiko Chiaureli, Ramaz Chkhikvadze
Wandering minstrel Ashik Kerib falls in love with a rich merchant's daughter, but is spurned by her father and forced to roam the world for a thousand and one nights - but not before he's got the daughter to promise not to marry till his return. It's told in typical Paradjanov style, in a series of visually ravishing 'tableaux vivants' overlaid with Turkish and Azerbaijani folksongs.
Bonus materials:
- Biography and documentaries about of Mikhail Lermontov
- Documentaries about Sergei Paradzhanov
- Music Box
- Filmographies
- Photo Album
Название:
Ашик-Кериб
Год выпуска:
1988
Жанр:
драма
Выпущено:
СССР, Россия
Режиссер:
Сергей Параджанов, Додо Абашидзе
В ролях:
Юрий Мгоян, Софико Чиаурели, Рамаз Чхиквадзе, Додо Абашидзе, Бая Двалишвили, Нодар Дугладзе, Вероника Метонидзе, Леван Натрошвили, Георгий Овакимян
О фильме:
Романтическая драма по мотивам одноименной поэмы великого русского поэта Михаила Лермонтова. Ашик-Кериб был беден, но у него было доброе сердце и прекрасный голос. Он играл на саазе — турецкой балалайке, прославляя древних витязей Туркестана, выступал на празднествах и свадьбах.
Однажды увидел он красавицу Магуль-Мегери, дочь турецкого богача, и полюбил ее. Но разве выдаст богач свою дочь за бедняка? Ашик-Кериб поклялся семь лет странствовать, чтобы нажить богатство или умереть. Если к назначенному сроку он не вернется, Магуль-Мегери выйдет замуж за другого…
Thanks to original uploader