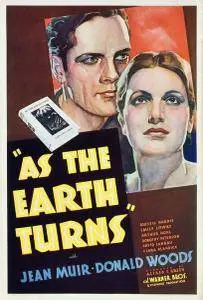 As the Earth Turns (1934)
English | TVRip | AVI | 608x464 | XviD @ 1121 kb/s | 617 MB
Audio: MP3 @ 58.8 kb/s | 1 channel | 01:12:23 minutes
Genre: Drama
Jean Muir stars as Jen Shaw, daughter of dirt-poor farmers Mark and Min Shaw (David Landau, Dorothy Appleby). Jen's parents have an abiding distrust for their new neighbors, the Jankowskis – not only because they're first-generation Poles, but also because they used to live in faraway Boston. Despite Mark and Min's opposition, Jen falls in love with Stan Jankowski (Donald Woods), but trouble looms in the form of Jen's stepsister Doris (Dorothy Appleby), who also has designs on Stan. New Warners contractee Jean Muir acquitted herself well in her first major role, which may be why As the Earth Turns did slightly better than expected at the box office.