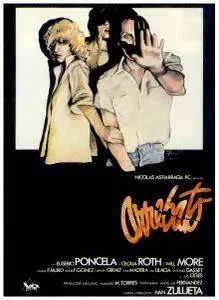 Arrebato / Rapture (1979)
Spanish | DVDRip | MKV | 720x574 | AVC @ 1900 kb/s | 1.68 GB
Audio: AC-3 @ 192 kb/s | 1 channel | 01:54:31 minutes | Subs: English, Russian (embedded)
Genre: Drama, Horror
Madrid,1980. Jose Sirgado, a labouring bohemian b-movie filmmaker finishes editing the sequel to a previous film. Visibly displeased he journeys home to his girlfriend strung out on heroin. After attempting to tidy his home and taking some heroin himself he opens a mail package from an old acquaintance Pedro P. containing a reel of super-8 film, a cassette tape and a key to his apartment. Watching the film and listening to the accompanying tape on which Pedro talks through the pair's first meeting, their ensuing friendship and how he developed an addiction to filmmaking, notably recording himself in bed as he reached a state of rapture induced by the camera manifested in a series of flashbacks. As Pedro's gravelly voice over wears on it becomes clear that his camera has taken on a vampiric life of its own absorbing its subjects and ultimately erasing them from the real world. Pedro's final recording informs Jose of his suspected fate and informs him to visit his apartment where he too is absorbed by the camera.