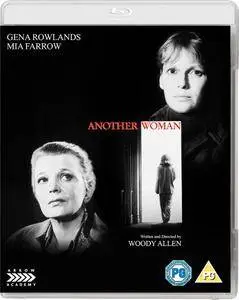 Another Woman (1988)
BDRip 1080p | MKV | 1920x1040 | x264 @ 13,4 Mbps | 81 min | 7,94 Gb
Audio: English FLAC 2.0 @ 605 Kbps | Subs: English (+SDH) (embedded in MKV)
Genre: Drama
Marion is a woman who has learned to shield herself from her emotions. She rents an apartment to work undisturbed on her new book, but by some acoustic anomaly she can hear all that is said in the next apartment in which a psychiatrist holds his office. When she hears a young woman tell that she finds it harder and harder to bear her life, Marion starts to reflect on her own life. After a series of events she comes to understand how her unemotional attitude towards the people around her affected them and herself.
The melancholic mood and Gena Rowland's impressing acting are the most important elements of this movie. It's the Ingmar-Bergman type of film, like "Interiors`, much more serious and thoughtful than all of Woody Allen's other movies, not at all typical for him. In my opinion, it's even more vivid than "Interiors` because there are less people involved and – something that happens less and less in Woody Allen's movies – there is only one main character. This time, it's the character herself who tells the story which is really unusual for Allen.

By leaving every other trade mark in plot and topics away, Allen concentrates on the intellectual dialogues and the analyses people make about each other. It's characteristic that Marion Post is a professor for philosophy. She automatically analyzes everybody around her, which leads to the fact that they start analyzing her. Her crisis begins, when she learns that people talk about her – which, of course, is something completely natural – and therefore starts analyzing herself. Her character really impressed me because I know people myself who are exactly like Marion Post. Woody Allen is a brilliant psychologist who watches people precisely and that's why he is able to create such believable characters.
(click to enlarge)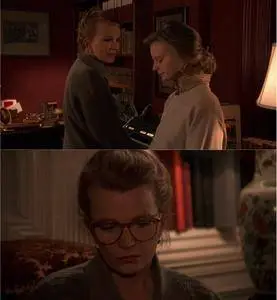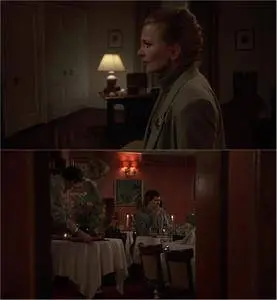 More in My Blog