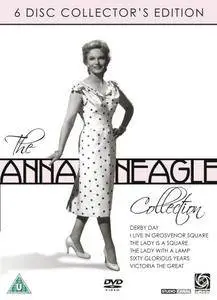 The Anna Neagle Collection (2008)
DVD Video, 6 x DVD5 | ~ 584mn | PAL 4:3 | 720x576 | ~ 22.4 Gb
English: Dolby AC3, 2 ch
Subtitle: None
Genre: Comedy, Drama, History, Musical, Romance
Amazon.co.uk
Actors:
Michael Wilding, Anna Neagle, John McCallum, Googie Withers, Peter Graves
Directors:
Herbert Wilcox
Producers:
Anna Neagle, Herbert Wilcox
A collection of the British actress's films. In 'Derby Day' (1952), Neagle stars in a collection of comic andf dramatic stories based around the famous horse race at Epsom. In 'I Live In Grosvenor Square' (1945), a WWII romance set around the US troops base in London, Neagle plays Lady Patricia Fairfax, in love with British Major David Bruce (Rex Harrison) until Sergeant John Patterson (Dean Jagger) arrives on the scene. In the musical comedy 'The Lady Is a Square' (1959), Neagle is the straight-laced mother of Joanna Baring (Janette Scott), who falls for young singer Johnny Burns (Frankie Vaughan). In 'The Lady with the Lamp' (1951), Neagle plays Florence Nightingale, the 19th century nurse and hospital crusader who managed to reform the nursing profession and make it what it is today. In 'Victoria the Great' (1937), Neagle takes the title role in this classic account of the life of Queen Victoria. Focusing on her private life, it tells of her courtship by and marriage to Prince Albert (Anton Walbrook) and features a thrilling assassination attempt where the Prince risks his own life to protect his Queen. The film was produced by Herbert Wilcox at the request of Edward VIII. Finally, 'Sixty Glorious Years' (1938) is a companion piece to the previous year's 'Victoria the Great', featuring further scenes from the life of Queen Victoria but this time focusing on the political events rather than the personal life. Neagle and Anton Walbrook reprise their roles as Victoria and Albert.


Title: AnnaNeagle.37.VictoriaTheGreat.D5
Size: 3.89 Gb ( 4 082 210,00 KBytes ) - DVD-5
Enabled regions: 1, 2, 3, 4, 5, 6, 7, 8

VTS_01 :
Play Length: 01:45:46+00:00:18+00:00:19+00:00:00+00:00:24
Video: PAL 4:3 (720x576) VBR
Audio:
English (Dolby AC3, 2 ch)

–––––––––––––––––––––––––––-

Title: AnnaNeagle.38.SixtyGloriousYears.D5
Size: 3.80 Gb ( 3 981 270,00 KBytes ) - DVD-5
Enabled regions: 1, 2, 3, 4, 5, 6, 7, 8

VTS_01 :
Play Length: 01:31:15+00:00:18+00:00:19+00:00:00+00:00:24
Video: PAL 4:3 (720x576) VBR
Audio:
English (Dolby AC3, 2 ch)

–––––––––––––––––––––––––––-

Title: AnnaNeagle.45.ILiveInGrosvenorSquare.D5
Size: 3.68 Gb ( 3 860 616,00 KBytes ) - DVD-5
Enabled regions: 1, 2, 3, 4, 5, 6, 7, 8

VTS_01 :
Play Length: 00:00:00+01:49:32
Video: PAL 4:3 (720x576) VBR
Audio:
English (Dolby AC3, 2 ch)

VTS_02 :
Play Length: 00:00:42+00:00:27
Video: PAL 4:3 (720x576) VBR
Audio:
English (Dolby AC3, 2 ch)

–––––––––––––––––––––––––––-

Title: AnnaNeagle.51.LadyWithALamp.D5
Size: 3.86 Gb ( 4 047 806,00 KBytes ) - DVD-5
Enabled regions: 1, 2, 3, 4, 5, 6, 7, 8

VTS_01 :
Play Length: 01:39:04+00:00:18+00:00:19+00:00:00+00:00:24
Video: PAL 4:3 (720x576) VBR
Audio:
English (Dolby AC3, 2 ch)

–––––––––––––––––––––––––––-

Title: AnnaNeagle.52.DerbyDay.D5
Size: 3.81 Gb ( 3 994 008,00 KBytes ) - DVD-5
Enabled regions: 1, 2, 3, 4, 5, 6, 7, 8

VTS_01 :
Play Length: 01:21:20+00:00:18+00:00:19+00:00:00+00:00:24
Video: PAL 4:3 (720x576) VBR
Audio:
English (Dolby AC3, 2 ch)

–––––––––––––––––––––––––––-

Title: AnnaNeagle.59.LadyIsASquare.D5
Size: 3.53 Gb ( 3 703 718,00 KBytes ) - DVD-5
Enabled regions: 1, 2, 3, 4, 5, 6, 7, 8

VTS_01 :
Play Length: 01:34:10+00:00:18+00:00:19+00:00:00+00:00:24
Video: PAL 4:3 (720x576) VBR
Audio:
English (Dolby AC3, 2 ch)


Thanks to original uploader