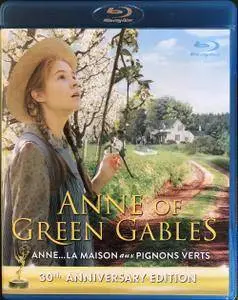 Anne of Green Gables (1985)
BDRip 720p | MKV | 1280 x 720 | x264 @ 2560 Kbps | 195 min | 4,16 Gb
Audio: English AC3 5.1 @ 448 Kbps + Commentary track | Subs: English
Genre: Drama | Director: Kevin Sullivan
At the turn of the century on Prince Edward Island, Matthew Cuthbert and his sister Marilla decide to take on an orphan boy as help for their farm. But they get an unexpected jolt when they're mistakenly sent a girl instead: Anne Shirley. Anne's a dreamer with an unusual point of view, far removed from Marilla's pragmatic ways, and it's only on trial that Marilla agrees to keep Anne… if Anne can keep out of trouble, only Anne has a positive genius for it. As Anne falls into a series of scrapes (and off a roof), makes a bosom friend, searches (and finds) several kindred spirits, Matthew and Marilla discover that their lives have become a great deal richer, now that Anne is at Green Gables.
This film is absolutely gem. The direction, acting, script and cinematography is spot on. I feel that the casting director should get a special mention as I don't believe you can find a better cast to play out the characters in the book. I feel this is where it mainly succeeded where other versions have failed. Megan Follows is Anne in every way. Excellent performances from Coleen Dewhurst and Richard Farnsworth help bring the story to life as well. A film translation from a book is never better than the book itself. I think this film and it's sequel are an exception.
(Enlargeable)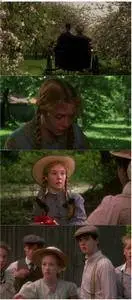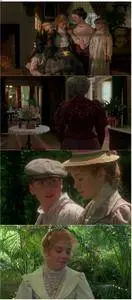 Audio Commentary
with director Kevin Sullivan