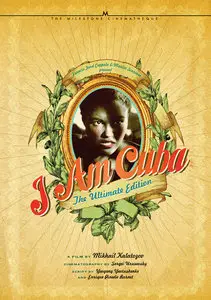 I Am Cuba (1964) [The Ultimate Edition]
DVD9 + 2xDVD5 | VIDEO_TS | NTSC 4:3 | 02:20:21 | 7,14 Gb + 4,34 Gb + 4,15 Gb
Audio: #1 Español, #2 Русский - AC3 2.0 @ 192 Kbps (each) | Subs: English (forced)
Genre: Art-house, Drama
Director:
Mikhail Kalatozov
I Am Cuba is considered a modern visual masterpiece, with balletic camera moves seen as amazing even today. The film, co-produced by the Cubans and Soviets, is a propagandist trip through Cuba - it's pro-Castro, anti-American, and huge on cinematic technique. The opening no-cut, single-take sequence is still talked about 40+ years later.
This study of Cuba–partially written by renowned poet Yevgeny Yevtushenko–captures the island just before it made the transition to a post-revolutionary society. Moving from city to country and back again, I AM CUBA examines the various problems caused by political oppression as well as by great discrepancies in wealth and power. Beginning in Havana in the pre-Castro era, we see how foreigners contributed to the city's prostitution and poverty; this sequence features dreamy, hallucinogenic camera work that creates a feeling of unease and dislocation. Then, in glorious images of palm tress and fertile land, the film looks at the sugar cane fields in the countryside, and the difficulties faced by peasants working the land. Finally, back in the city again, leftist students battle the police and a corrupt government–and pay a high price for their rebellion.
Started only a week after the Cuban missile crisis and designed to be Cuba's answer to both Sergei Eisenstein's propaganda masterpiece, Potemkin and Jean-Luc Godard's freewheeling romance, Breathless, I Am Cuba turned out to be something quite unique — a wildly schizophrenic celebration of Communist kitsch, mixing Slavic solemnity with Latin sensuality. The plot, or rather plots, feverishly explore the seductive, decadent (and marvelously photogenic) world of Batista's Cuba — deliriously juxtaposing images of rich Americans and bikini-clad beauties sipping cocktails poolside with scenes of ramshackle slums filled with hungry children and gaunt old people. Using wide-angle lenses that distort and magnify and filters that transform palm trees into giant white feathers, Urusevsky's acrobatic camera achieves wild gravity-defying angles as it glides effortlessly through long continuous shots. But I Am Cuba is not just a catalog of bravura technique — it also succeeds in exploring the innermost feelings of the characters and their often desperate situations. Shown unsubtitled at the San Francisco International Film Festival, I Am Cuba received two standing ovations — during the screening. The first movie ever jointly presented by master filmmakers Martin Scorsese and Francis Ford Coppola, I Am Cuba is one of the great discoveries in cinema. It will change your view of cinema forever!


Milestone Films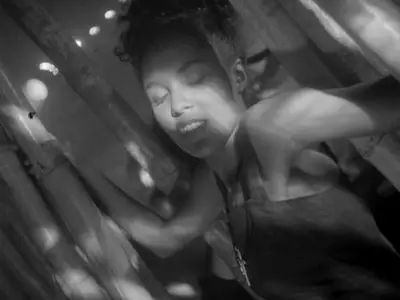 Few films have as tortured a road to the screen as Mikhail Kalatozov's I Am Cuba. Completed in 1964 as a joint effort between Russia and Cuba, it was shelved for various Orwellian reasons and not really seen until 1995. A chronicle of the revolution in Cuba, it is also a revolution in filmmaking, full of mind-bending, ambitiously staged shots and giving the French New Wave a run for its deconstructionist money in the way that Kalatozov tears apart conventional plot and emerges with something completely new. Part travelogue, part time capsule, and striking a tenuous balance between respectable agitprop and no-holds-barred propaganda, I Am Cuba is cinema as poetry, alive with a cadence all its own.




Though Image Entertainment released I Am Cuba on DVD in 2000, the disc wasn't all it could be, and it certainly wasn't all the film deserved. Milestone Film and Video has put together this new Ultimate Edition, and it's head and shoulders above its predecessor. Though the Image disc was passable in quality, the 2007 DVD sports a new transfer from original Russian film materials that is amazingly clear. It's as if a veil has been lifted from our collective eyes to reveal the full glory of Sergei Urusevsky's black-and-white photography. Likewise, we now finally have the option of watching the film with the full Spanish audio, minus the Russian overdubbing–and when I say overdubbing, I really do mean overdubbing. Russian voices speak over the top of the Spanish language dialogue so that the two tracks run simultaneously. That version is also available here, and I would recommend watching it that way at least once. It has a strangely hypnotic quality, and as a piece of philosophical unity about brotherhood under Communism, it works like a handshake across the ocean between the Russians and their Cuban comrades.




I Am Cuba is a quartet of stories, split into two halves. The first two segments are about the exploitation in the country under the rule of Batista. Foreign interests keep the people in poverty while exploiting them in the worst way possible. First, we meet the girl Maria (Luz Maria Collazo), who works in a nightclub under the name Betty, entertaining visiting Americans who see her culture and lifestyle as at worst a party favor and at best an anthropological oddity. Then we have Pedro (Jose Gallardo), the old farmer who has labored in vain to make a life for his children. The year he grows a banner sugar cane crop, he is informed that he won't be able to finish the harvest, as the land he works has been sold out from under him to a large corporation.




From there we move to the student revolutionaries in Guantanamo. In particular, we watch Enrique (Raul Garcia), who can talk a good game but lacks the nerve to carry it through. When his group is busted up by a thuggish police force, Enrique must move from philosophy to action. Meanwhile, out in the jungle, Castro's army is picking up steam. When one soldier stops to feed himself at a mountain farmhouse, his revolutionary fervor clashes with the farmer's pacifist views. Again, the inactive will be put to the test when the fight comes to the farmer's front door.




Uniting all of these segments is the voice of Cuba personified (Raquel Revuelta). Speaking in lyrical summations, Kalatozov layers her songs of herself over dizzying montages showing the faces of her people.

The camera work in I Am Cuba remains as awe inspiring today as it would have been in 1964. At any point, if you stop and take yourself out of the narrative, you will find yourself wondering how Mikhail Kalatozov and cinematographer Sergei Urusevsky made a film of such beauty and innovation. Their prior efforts, particularly the marvelous The Cranes Are Flying, were pretty to look at, but nothing like I Am Cuba. Working with mostly long takes filmed on five-minute magazines, they keep the camera moving, often defying the laws of gravity, matching the unbroken strains of their poetic writing with unbroken visual lines. Pop in the DVD, jump to any random point in the movie, and then hit pause, and you're likely to see a single frame of such lovely composition, it'll make your jaw drop.




For all the things I Am Cuba is, it would have been easy for Mikail Kalatozov to fall under the weight of his own ambitions, be it from the standpoint of a virtuoso or the downfall of a believer belaboring a point. Neither of these things came to pass. Instead, I Am Cuba is a vibrant portrait of a country and its people, alive with the music and the scenery native to the land. Sure, it's an idealistic portrait. If they could have added one color tint to the film stock, it would have had to be rose. Poetry isn't supposed to be mealy mouthed, anyway, it should take a stand. I Am Cuba certainly does, but it is mesmerizing filmmaking at the same time. While those who fear its message might decide that makes the film all the more insidious, for those who are sympathetic and want to see what it's all about, or those who couldn't care less and just want to see a gripping piece of cinema, I Am Cuba is a masterpiece of celluloid.




I Am Cuba - The Ultimate Edition is the kind of package film enthusiasts have been waiting for. Mikhail Kalatozov's groundbreaking 1964 film has been fully restored and put on DVD in a truly stellar package. The movie itself is a visual delight, defying all boundaries of conventional filmmaking to tell a quartet of stories about Cuba both before and during Castro's revolution. It's a challenging, mesmerizing example of all the things cinema is capable of. Put together with two extra discs of bonus documentaries and placed inside a replica Cuban cigar box, I Am Cuba - The Ultimate Edition is the kind of DVD package that impresses even before the shrinkwrap is removed. Thus, it can receive nothing less than our highest ranking: DVD Talk Collector Series.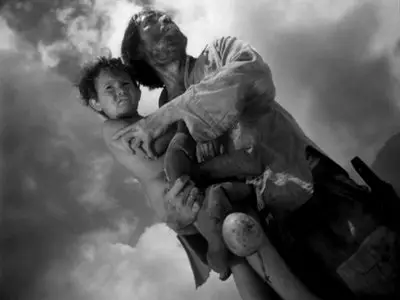 Special Features:
DISC 1:
- The film
- "Martin Scorsese on I Am Cuba" featurette (26:21)
- 3 stills galleries: "I Am Cuba 1964" - Photos from the Original Production (1:27)
- "I Am Cuba Today" - Photos of the Cast and Crew (1:07)
- "I Am Cuba - A Photo Essay by Mikhail Evastafiev" (6:36)
- Cuban version of the opening credits (4:57)
- Re-Release Trailer (1:47)
- 2 Subs track - English based on Spanish audio and English based on Russian audio

DISC 2:
- The Siberian Mammouth, Vincente Ferraz's award-winning documentary on the making of I Am Cuba (2005, 91 mins, Portugese, Spanish & Russian with English subtitles)
- CUNY City Cinematheque interview with screenwriter Yevgeny Yevtushenko (2004, 10 mins, English)

DISC 3:
- A Film About Mikhail Kalatozov - a comprehensive documentary on this giant of Russian Cinema (2006, 101 mins, English & Russian with English subtitles)
All Credits goes to Original uploader.