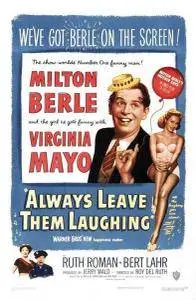 Always Leave Them Laughing (1949)
English | TVRip | AVI | 608x448 | XviD @ 1291 kb/s | 1.13 GB
Audio: MP3 @ 96.0 kb/s | 1 channel | 01:55:40 minutes
Genre: Comedy, Drama
Kip Cooper, a successful comedy star, is the hit of the nation starring on his own television show. His agent, in flashback, tells a young, inexperienced comedian how Cooper rose to the top, mostly running over others on the way. Copper was a small-time comedian who worked upwards through sheer aggressiveness. He double-crosses his sweetheart after she gets him a big break, lies, cheats and steals material in his efforts to succeed. But, he sees the light.