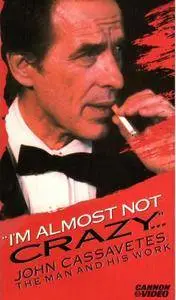 I'm Almost Not Crazy: John Cassavetes - the Man and His Work (1984)
DVDRip | AVI | 640x480 | XviD @ 3533 Kbps | English AC3 1.0 @ 192 Kbps | 56 min | 1,46 Gb
Genre: Documentary, Biography
Director:
Michael Ventura
Writer:
Michael Ventura
Stars:
John Cassavetes, Seymour Cassel, Gena Rowlands
On the set of Love Streams, director Michael Ventura allows Cassavetes, cast and crew to speak for themselves. Full of interesting footage of exchanges between Cassavetes and crew/actors, this is an extremely hard-to-find documentary on arguably the first American independent filmmaker.
I had been searching for this film for a while before finally getting hold of a bootleg copy. After seeing it, I have to say that any fan of Cassavetes the director must see it at any cost. There have been other Cassavetes documentaries, but most are posthumous and feature Cass. only in old filmclips. "I'm Almost Not Crazy…" was shot during the filming of the director's final masterpiece, "Love Streams", giving the viewer a first-hand account of the filmmaker's directorial style. Also very valuable are candid interviews with Cassavetes himself. This documentary, more than any other, proves that he was one of the most original, honest, creative geniuses of our time.
(click to enlarge)
More in My Blog