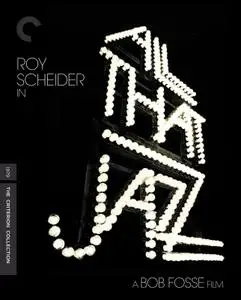 All That Jazz (1979) + Extras
BDRip 1080p | MKV | 1920 x 1080 | x264 @ 14,0 Mbps | 2h 3mn | 14,32 Gb + 5,46 Gb
Audio: English DTS HD-MA 3.0 @ 2335 Kbps + Commentary track | Subtitles: English, 中文
Genre: Drama, Music, Musical | Director: Bob Fosse
The preternaturally gifted director and choreographer Bob Fosse turned the camera on his own life for this madly imaginative, self-excoriating musical masterpiece. Roy Scheider gives the performance of his career as Joe Gideon, whose exhausting work schedule – mounting a Broadway production by day and editing his latest movie by night – and routine of amphetamines, booze, and sex are putting his health at serious risk. Fosse burrows into Gideon's (and his own) mind, rendering his interior world as phantasmagoric spectacle. Assembled with visionary editing that makes dance come alive on-screen as never before, and overflowing with sublime footwork by the likes of Ann Reinking, Leland Palmer, and Ben Vereen, All That Jazz pushes the musical genre to personal depths and virtuosic aesthetic heights.
IMDB
- Won 4 Oscars + Another 6 wins
(Enlargeable)

Audio commentary
with editor Alan Heim
– Selected-Scene Commentary - the late Roy Scheider, who plays Joe Gideon, recalls his initial encounter with the professional dancers, and discusses the edgy qualities of his character (which Richard Dreyfuss was initially approached to play), Bob Fosse's style and personality, the film's production history and editing, etc. The audio commentary was recorded in 2001 (35 min):
1. The cattle call
2. Fosse's condition
3. The discipline of dancing
4. Autobiographical?
5. "Zero hour"

– Reinking and Foldi - in this new video conversation, Ann Reinking and Erzsebet Foldi discuss their work with Bob Fosse during the shooting of All That Jazz, the execution of the famous scene where the two dance together to the tune of "Everything Old Is New Again", the dancing styles and techniques Bob Fosse appreciate, etc. The conversation was recorded exclusively for Criterion in June 2014 (34 min).

– Alan Heim - in this new video interview, editor Alan Heim, who won an Academy Award for his work on All That Jazz, discusses the film's editing, unique visual style, and the film's long production history. Alan Helm also recalls his work with Bob Fosse on Lenny, and specifically the unique challenges Dustin Hoffman's performance presented. The interview was conducted exclusively for Criterion in April 2014 (16 min).

– Tomorrow - in this wonderful archival interview, Bob Fosse and legendary American dancer and choreographer Agnes de Mille discuss life on Broadway, the difficult decisions they have made during the years, the unique qualities that make a dancer attractive to them, the erotic overtones in All That Jazz, etc. The interview comes from an episode of Tom Snyder's late-night New York talk show Tomorrow, which original aired at 1.00 a.m. on January 31, 1980 (32 min).

– Sam Wasson - in this new video interview, Sam Wasson, author of the biography Fosse, discusses the life and legacy of Bob Fosse. The interview was conducted exclusively for Criterion in 2014 (21 min).

– The South Bank Show - presented here is an episode of The South Bank Show, hosted by Melvyn Bragg, which features an interview with Bob Fosse. The American director talks about his experience as a dancer and choreographer. The episode originally aired on March 8, 1981 (27 min).

– Gene Shalit Interview with Bob Fosse - this archival interview was conducted by television critic Gene Shalit for NBC in 1986, a year before Bob Fosse died. The American director discuses some of the differences between doing movies and Broadway shows, the difficult Broadway auditions he has done, the power of published criticism, etc (27 min).

– On the Set - presented here is archival footage from the shooting of All That Jazz in which Bob Fosse is seen directing the cattle call. Also included is a short interview with actor Roy Scheider:
1. Fosse Directing (8 min, 1080p).
2. Scheider Interview (4 min, 1080p).

– Portrait of a Choreographer - this documentary film focuses on the choreography style of Bob Fosse. It features clips from different archival interviews with Liza Minnelli, editor Alan Heim, choreographer Anne Fletcher, choreographer and dancer John Deluca, choreographer and filmmaker Rob Marshall, and dancer Sandahl Bergman, amongst others (23 min).

– The Making of the Song "On Broadway" - in this archival interview, the great George Benson discusses the creation of his hit 1963 song "On Broadway", which is used in All That Jazz. The interview was conducted in 2007 (4 min).

– "The Soundtrack: Perverting the Standards" (7:50) featurette