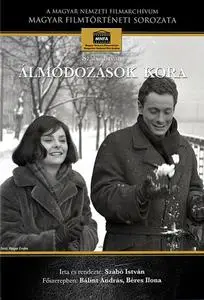 Age of Illusions (1965)
DVDRip | MKV | 714x558 | x264 @ 2223 Kbps | 93 min | 1,58 Gb
Audio: Magyar AC3 2.0 @ 192 Kbps | Subs: English (embedded in MKV)
Genre: Drama
Director:
István Szabó
Writer:
István Szabó
Stars:
András Bálint, Ilona Béres, Judit Halász
Jancsi Oláh is in the transitional phase between adolescence and adultness. He is born in 1938, and is now getting his first employment as an electronic engineer. On some TV-screens he happens to see a young lawyer, Éva Halk, who arrests his attention. In his imagination she is the most interesting woman he ever saw. Jansci is part of a closely knit gang of young engineers. They see the older engineers as mediocre, and have grand ideas about developing new inventions together. With changing living conditions the five friends start to grow apart. At a party Jancsi suddenly meets Éva Halk. They fall in love, and find common memories in the engagement in The Pioneer Railway at the age of 12. Both of them also chose to stay in Hungary in '56, when many of their friends fled the country. The sudden death of the gang member Laci in leukemia is a hard blow for them all. The fear of death grabs Éva and Jancsi. They start seeing each other as obstacles to their own development, and drift apart.
If Szabo adopts the tone, rhythm, and stylistic effects of the New Wave, what's driving him remains far removed from the emancipation sought by Forman and the other whimsical Prague practitioners of the emerging Czechoslovak school…It's in this tussle between the demands of resignation and of constantly renewed vital energy that the true profundity of Age of Illusions is revealed.
(click to enlarge)

More in My Blog