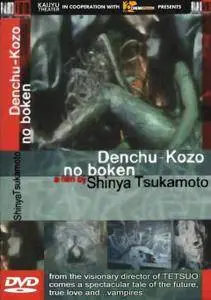 The Adventures of Electric Rod Boy (1987)
DVDRip | MKV | 700x574 | x264 @ 2514 Kbps | 45 min | 899 Mb
Audio: 日本語 AC3 2.0 @ 224 Kbps | Subs: English, Italiano, Русский
Genre: Comedy, Horror, Sci-Fi
Director:
Shin'ya Tsukamoto
Writer:
Shin'ya Tsukamoto
Stars:
Kei Fujiwara, Nobu Kanaoka, N. Senba
Hikari is a boy who is bullied and teased by the other boys at school because he has the odd distinction of having an electricity pole growing out of his back. However, one of his classmates, a girl named Momo, comes to his rescue. Hikari thanks her by sharing his secret possession with her: a time machine. He then activates the time machine which transports him 25 years into a dark, dystopian, world of the future. There he encounters members of the Shinsengumi Vampire Gang in the process of hunting a woman named Dr. Sariba who is revealed to be Momo's future self. She explains to Hikari that she had been long expecting his arrival from the past and that he has a crucial role to play here – he and he alone must save the world.
I saw an untranslated copy of this film, so I'm certainly missing something of the story. But I really like it anyway. It seems to be about a young boy who has a lumpy metal pole that is growing out of his back. He finds some kind of apparatus that transports him to an ominous nether-world where he and a fierce woman with a book attached to her head fight some scary motorized vampire-thugs. Eventually he meets a heroic older guy who also has a pole growing out of his back–I think this guy might be sort of an idealized version of himself. Then he is transported back to his own world. This film has all the visual kicks of the first Tetsuo, but it's much more raw, and in color. It seems to have been produced on 16mm. It has a weird, fun, dorky innocence that the later Tetsuo films only vestigally had. It is very punk rock. I loved it… I wish I could see it shown on actual film, with English subtitles.
(click to enlarge)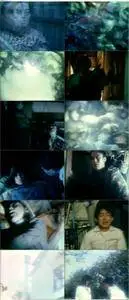 More in My Blog