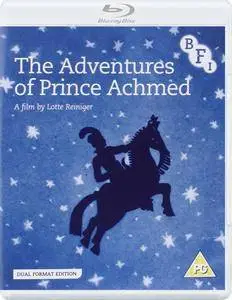 The Adventures of Prince Achmed (1926)
BDRip 720p | MKV | 946 x 720 | x264 @ 5150 Kbps | 1h 6mn | 2,68 Gb
Score AC3 2.0 @ 448 Kbps + English narration | Deutsch intertitles with English subs
Genre: Animation, Adventure, Fantasy | Directors: Lotte Reiniger, Carl Koch
Based on stories from "The Arabian Nights." A wicked sorcerer tricks Prince Achmed into riding a magical flying horse. The heroic prince is able to subdue the magical horse, which he uses to fly off to many adventures. While travelling, he falls in love with the beautiful Princess Peri Banu, and must defeat an army of demons to win her heart. The entire film is animated using the silhouette technique, which employs movable cardboard and metal cutouts posed in front of illuminated sheets of glass.
Disney's Snow White & the Seven Dwarves is commonly called the first animated feature but 11 years ago before its release, at age of 23, Berlin born avant-gardist Charlotte Reinger designed the exquisite "silhouette film" The Adventures of Prince Achmed. Loosely based on the 1001 Nights (The Arabian Nights) The Adventures of Prince Achmed deploys elaborate cut-outs, early multiplane camerawork, and experiments with wax and sand to produce and exquisite visual feast. The fantasy world of sorcerers ad magic lamps, flying horses and an island lake where a princess and her attendants fly down to bathe using lace like wings comes to life in a breathtaking combination of images, color and special effects that will dazzle and enchant adults and children alike. The film was finished and had its premiere in Berlin in 1926.
(Enlargeable)

Track #1:
Original Orchestral Score By Wolfgang Zeller
Track #2:
Alternative Narration By Actress Penelope McGhie