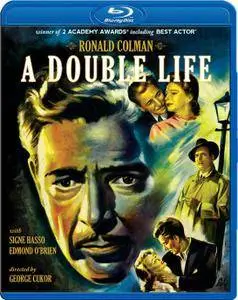 A Double Life (1947)
BDRip 1080p | MKV | 1456x1080 | x264 @ 8171 Kbps | Englisg DTS 1.0 @ 768 Kbps | 105 min | 6,56 Gb
Genre: Crime, Drama, Film-Noir
Anthony John is an actor whose life is strongly influenced by the characters he plays. When he's playing comedy, he's the most enjoyable person in the world, but when he's playing drama, it's terrible to be around him. That's the reason why his wife Brita divorced him; although she still loves him and works with him, she couldn't stand living with him anymore. So when Anthony accepts to play Othello, he devotes himself entirely to the part, but it soon overwhelms him and with each day his mind gets filled more and more with Othello's murderous jealousy.
Ronald Colman gives an electrifying performance as Tony John, a Broadway actor who can't separate his offstage life from Shakespeare's Othello, the character he plays on stage….Two important scenes illustrate Tony's dilemma. The first one takes place in producer Max Lasker's office. Acting is a matter of talent for the practical-minded Lasker. But Donlan, Tony's friend, disagrees: "No, no. When you do it like Tony does it, it's much more. The way he has of becoming someone else every night…so completely. No, don't tell me his whole system isn't affected by it."….The other scene occurs in waitress Pat Kroll's apartment. Tony tells her his name is Martin. She thanks him. Then he says: "Or Paul. Hamlet. Joe. And maybe Othello."….When Tony begins rehearsing Othello, we learn that though he's trying to keep his real life separated from his stage life, "The part begins to seep into your life, and the battle begins. Reality against imagination." He can't keep the two separated: In his mind Pat is Desdemona and he's Othello, and he wrongly believes she has been unfaithful to him. He murders her….Colman's bravura performance, in a complex and difficult role, earned him 1947's Academy Award for Best Actor. Oscar nominations went to Ruth Gordon and Garson Kanin for Best Original Screenplay. Not to be overlooked is Milton Krasner's atomspheric cinematography.
(click to enlarge)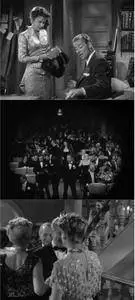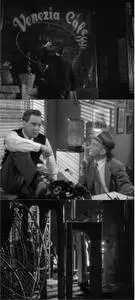 More in My Blog