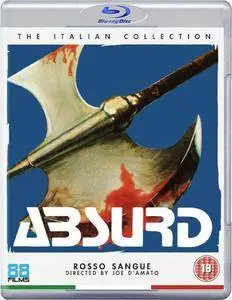 Absurd (1981)
BDRip | MKV | 1024x548 | x264 @ 2692 Kbps | 93 min | 1,92 Gb
Audio: English AAC 2.0 @ 144 Kbps + Commentary track | Subs: English
Genre: Horror
Director
: Joe D'Amato (as Peter Newton)
Writer
: George Eastman (as John Cart)
Stars
: George Eastman, Annie Belle, Charles Borromel
A tall man is running, chased by a Priest. He comes across a house but the tall gates are locked so he begins to climb them, however he slips at the top and impales himself on the spikes. Critically injured, he's taken to hospital and once there the doctors discover that this man has an amazing regenerative power and his blood coagulates very quickly making him almost indestructible. Sergeant Ben Engleman is put on the case and he finds out that the priest has the answers: this man, Mikos Stenopolis is the result of a nuclear experiment gone wrong. He's now completely insane and will kill everybody who crosses his path, showing no mercy.
While I've seen over a dozen of Joe D'Amato's films, this was my first foray into his horror films (unless you count Emanuelle and the Last Cannibals, and his Caribbean Horror/Porns, which I have seen.)

For the first half of the movie I wasn't that impressed. But, the second half was relentless, suspenseful, brutal and agonizing. I've seen hundreds of horror/gore/splatter/slasher films, but the infamous 'oven scene' (which I won't spoil) had me literally covering my mouth to keep from making too much noise.

The rampage of the second act works well because the horror comes from the THOUGHT of what is happening, rather than the more visceral deaths of the first half. There is blood and gore, to be sure, but Joe D'Amato shows a modicum of restraint, letting the suspense build in a way it was unable to in the first act.

So, if you decide to give this film a try, and I hope you will, stick with it. Not only does the film really get going in the second half, the final shot of the film has to be one of the most unexpected, shocking and unexpected moments I've ever seen.
(click to enlarge)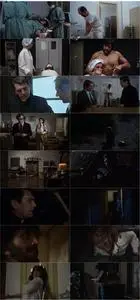 Audio Commentary
with Justin, Joseph and Nathan from The Hysteria Continues podcast
More in My Blog