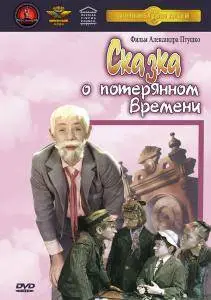 Skazka o poteryannom vremeni / A Tale of Lost Times (1964)
Russian | DVDRip | MKV | 698x572 | AVC @ 2150 kb/s | 1.34 GB
Audio: AC-3 @ 256 kb/s | 6 channels | 01:18:49 minutes
Subs: English, Russian, French, Spanish, Dutch, Japanese, Swedish, German, Italian, Portuguese, Hebrew, Chinese (embedded)
Genre: Comedy, Family, Fantasy
Kind and instructive tale of four evil wizards who decided to regain youth. But for this it was necessary to find people aimlessly waste their time. Luck smiled on them! They met four disorderly students. Wizards bewitched students and turned them into old people and themselves become children. But the students had one last chance - before sunset they had to find a home of wizards and move back magic arrows on the clock.