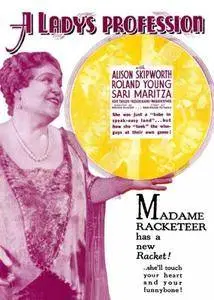 A Lady's Profession (1933)
English | TVRip | AVI | 640x480 | XviD @ 1555 kb/s | 800 MB
Audio: MP3 @ 59.3 kb/s | 1 channel | 01:08:46 minutes
Genre: Comedy
Skipworth is the grand dame of a titled European family down on their luck. Roland Young is bumbling and stuttering father, Sari Maritza is pretty daughter who loves rich and handsome boyfriend Kent Taylor whose blowhard American father George Barbier does not trust anyone.
In the subplot we have conman Roscoe Karns talking fast and double dealing, Warren Hymer as a strong armed bootlegger, Billy Bletcher as a whittling sidekick and bully Dewey Robinson trying to avoid the coppers.