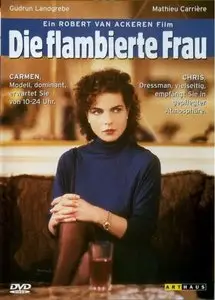 Die flambierte Frau / A Woman in Flames (1983)
DVD Video | 1hr 40mn | PAL 16:9 | 720x576 | 7.03 Gb
German: Dolby AC3, 2 ch
Subtitle: English
Genre: Drama
IMDB Rating: 6.1/10 (387 votes)
Director:
Robert van Ackeren
Writers:
Robert van Ackeren, Catharina Zwerenz
Stars:
Gudrun Landgrebe, Mathieu Carrière, Hanns Zischler
Eva, an upper-class housewife, frustratedly leaves her arrogant husband and decides to enter the call girl business. She lets Yvonne, a prostitute, teach her the basics and both set out for prey together, until Eva starts an affair with Chris, who turns out to be a call boy, as well. Consequently, she moves into his penthouse, large enough for both to offer their services separately.

Title: AWomanFlms.83.D9
Size: 7.03 Gb ( 7 376 546,00 KBytes ) - DVD-9
Enabled regions: 1, 2, 3, 4, 5, 6, 7, 8

VTS_01 :
Play Length: 00:00:00+{00:00:00}
Video: PAL 16:9 (720x576) VBR, Auto Letterboxed
Audio:
Not specified (Dolby AC3, 6 ch)

VTS_02 :
Play Length: 00:00:10+00:00:20+00:00:06+00:00:00+00:00:00+00:00:00
Video: PAL 16:9 (720x576) VBR, Auto Letterboxed
Subtitles:
Not specified

VTS_03 :
Play Length: 00:02:25+00:01:19
Video: PAL 4:3 (720x576) VBR
Audio:
English (Dolby AC3, 2 ch)

VTS_04 :
Play Length: 00:02:14
Video: PAL 16:9 (720x576) VBR, Auto Letterboxed
Audio:
Deutsch (Dolby AC3, 2 ch)

VTS_05 :
Play Length: 00:01:33
Video: PAL 16:9 (720x576) VBR, Auto Letterboxed
Audio:
Francais (Dolby AC3, 2 ch)

VTS_06 :
Play Length: 00:01:21+00:02:22+00:01:25+00:02:56
Video: PAL 4:3 (720x576) VBR
Audio:
Deutsch (Dolby AC3, 2 ch)

VTS_07 :
Play Length: 00:03:44
Video: PAL 16:9 (720x576) VBR, Auto Letterboxed
Audio:
Deutsch (Dolby AC3, 2 ch)

VTS_08 :
Play Length: 00:12:39
Video: PAL 16:9 (720x576) VBR, Auto Letterboxed
Audio:
Deutsch (Dolby AC3, 2 ch)
Not specified (Dolby AC3, 2 ch)

VTS_09 :
Play Length: 01:40:05
Video: PAL 16:9 (720x576) VBR, Auto Letterboxed
Audio:
Deutsch (Dolby AC3, 2 ch)
Subtitles:
English