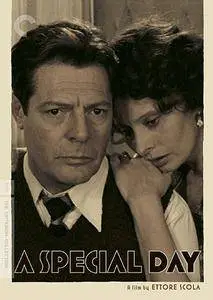 A Special Day / Una giornata particolare (1977) [Criterion Collection, Spine #778]
DVD Video, 2 x DVD9 | NTSC 16:9 | 720x480 | 1hr 46mn | 6.94 Gb + 6.26 Gb
Italian: Dolby AC3, 1 ch
Subtitles: English
Genre: Drama
IMDB Rating: 8.1/10 (8.416 votes)
Criterion.com
Director:
Ettore Scola
Writers:
Ruggero Maccari, Ettore Scola
Stars:
Sophia Loren, Marcello Mastroianni, John Vernon
The film is set during the late 1930s: the occasion is the meeting between Mussolini and Hitler in Rome. Left alone in her tenement home when her fascist husband runs off to attend the historic event, Sophia Loren strikes up a friendship with her mysterious neighbor Mastroianni. As the day segues into night, Loren and Mastroianni develop a very special relationship that will radically alter both of their outlooks on life.


Title: ASpecialDay.77.Cr.D9.D1
Size: 6.94 Gb ( 7 274 310,00 KBytes ) - DVD-9
Enabled regions: 1, 2, 3, 4, 5, 6, 7, 8

VTS_01 :
Play Length: 00:00:00
Video: NTSC 16:9 (720x480) VBR, Auto Letterboxed

VTS_02 :
Play Length: 01:46:54
Video: NTSC 16:9 (720x480) VBR, Auto Letterboxed
Audio:
Italiano (Dolby AC3, 1 ch)
Subtitles:
English

VTS_03 :
Play Length: 00:00:20
Video: NTSC 16:9 (720x480) VBR, Auto Pan&Scan

VTS_04 :
Play Length: 00:02:47
Video: NTSC 16:9 (720x480) VBR, Auto Letterboxed
Audio:
Italiano (Dolby AC3, 1 ch)
Subtitles:
English

VTS_05 :
Play Length: 00:00:00
Video: NTSC 4:3 (720x480) VBR

–––––––––––––––––––––––––-

Title: ASpecialDay.77.Cr.D9.D2
Size: 6.26 Gb ( 6 561 156,00 KBytes ) - DVD-9
Enabled regions: 1, 2, 3, 4, 5, 6, 7, 8

VTS_01 :
Play Length: 00:00:00
Video: NTSC 16:9 (720x480) VBR, Auto Letterboxed

VTS_02 :
Play Length: 00:21:11
Video: NTSC 16:9 (720x480) VBR, Auto Letterboxed
Audio:
Italiano (Dolby AC3, 1 ch)
Subtitles:
English

VTS_03 :
Play Length: 00:28:01
Video: NTSC 4:3 (720x480) VBR
Audio:
English (Dolby AC3, 1 ch)

VTS_04 :
Play Length: 00:28:02
Video: NTSC 4:3 (720x480) VBR
Audio:
English (Dolby AC3, 1 ch)

VTS_05 :
Play Length: 00:14:36
Video: NTSC 16:9 (720x480) VBR, Auto Letterboxed
Audio:
English (Dolby AC3, 2 ch)
Subtitles:
English

VTS_06 :
Play Length: 00:25:32
Video: NTSC 16:9 (720x480) VBR, Auto Letterboxed
Audio:
Italiano (Dolby AC3, 2 ch)
Subtitles:
English

VTS_07 :
Play Length: 00:00:00
Video: NTSC 4:3 (720x480) VBR


Extras DVD1:
- Trailer
Extras DVD2:
- New interviews with Scola and Loren
- Two 1977 episodes of The Dick Cavett Show featuring Loren and actor Marcello Mastroianni
- Human Voice, a 2014 short film starring Sophia Loren and directed by Edoardo Ponti
All thanks to the original uploader