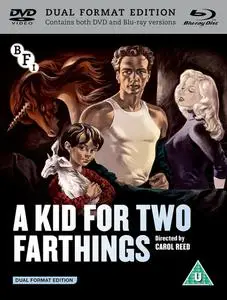 A Kid for Two Farthings (1955) [British Film Institute]
Blu-Ray | BDMV | AVC, 1920x1080, ~30.5 Mbps | 1hr 30mn | 41,3 GB
English: LPCM Audio, 2 ch, 2304 kbps \ LPCM Audio, 2 ch, 2304 kbps | Subtitles: English
Genre: Comedy, Drama, Family
IMDB Rating: 6.5/10 (736 votes)
Director:
Carol Reed
Writers:
Wolf Mankowitz (based on the book by), Wolf Mankowitz (screenplay)
Stars:
Celia Johnson, Diana Dors, David Kossoff
Film Distributor:
BFI (British Film Institute)
In a lower-class London community of small shops, open-air vendors and flea-marketers, Joe, a small boy, lives with his mother, Joanne, who works in and rooms above the Kandinsky tailor shop. Joe is innocently and earnestly determined to help realize the wishes of his poor, hard-working neighbours. Hearing from Mr. Kandinsky the tale that a captured unicorn will grant any wish, Joe uses his accumulated pocket change to buy a kid with an emerging horn, believing it to be a unicorn. His subsequent efforts to make dreams come true exemplify the power of hope and will amidst hardship.
Extras:
- Sales Pitches: London Street Markets in Archive Film: archive films of Petticoat Lane and London Bridge market
- London After the War - the post-war period is evoked in archive films celebrating the city and its people
- On The Ropes - a strenuous selection of archive films about wrestling and boxing
- All in a Day's Work:actress Vera Day recalls A Kid for Two Farthings and her 1950s film career in a new interview
- Interview with Joe Robinson (2006, 17 mins, audio only) - the actor recalls A Kid for Two Farthings in this archive interview recorded on stage at BFI Southbank
- Image Gallery

                                                                                                                Total   Video                                             
Title                                                           Codec   Length  Movie Size      Disc Size       Bitrate Bitrate Main Audio Track                          Secondary Audio Track
-----                                                           ------  ------- --------------  --------------  ------- ------- ------------------                        ---------------------
00001.MPLS                                                      AVC     1:30:28 25 010 473 536  44 421 504 895  36,86   30,49   LPCM 2.0 2304Kbps (48kHz/24-bit)          LPCM 2.0 2304Kbps (48kHz/24-bit)



DISC INFO:

Disc Title:     AKidForTwoFarthings.1955.BFI.Br
Disc Size:      44 421 504 895 bytes
Protection:     AACS
BD-Java:        No
BDInfo:         0.5.8

PLAYLIST REPORT:

Name:                   00001.MPLS
Length:                 1:30:28.583 (h:m:s.ms)
Size:                   25 010 473 536 bytes
Total Bitrate:          36,86 Mbps

VIDEO:

Codec                   Bitrate             Description     
-----                   -------             -----------     
MPEG-4 AVC Video        30492 kbps          1080p / 24 fps / 16:9 / High Profile 4.1

AUDIO:

Codec                           Language        Bitrate         Description     
-----                           --------        -------         -----------     
LPCM Audio                      English         2304 kbps       2.0 / 48 kHz / 2304 kbps / 24-bit
LPCM Audio                      English         2304 kbps       2.0 / 48 kHz / 2304 kbps / 24-bit

SUBTITLES:

Codec                           Language        Bitrate         Description     
-----                           --------        -------         -----------     
Presentation Graphics           English         45,842 kbps                     

FILES:

Name            Time In         Length          Size            Total Bitrate   
----            -------         ------          ----            -------------   
00035.M2TS      0:00:00.000     1:30:28.583     25 010 473 536  36 857          

CHAPTERS:

Number          Time In         Length          Avg Video Rate  Max 1-Sec Rate  Max 1-Sec Time  Max 5-Sec Rate  Max 5-Sec Time  Max 10Sec Rate  Max 10Sec Time  Avg Frame Size  Max Frame Size  Max Frame Time  
------          -------         ------          --------------  --------------  --------------  --------------  --------------  --------------  --------------  --------------  --------------  --------------  
1               0:00:00.000     0:08:31.416     33 030 kbps     47 872 kbps     00:03:48.874    39 519 kbps     00:07:54.750    37 658 kbps     00:04:07.416    172 015 bytes   451 050 bytes   00:02:45.291    
2               0:08:31.416     0:06:30.333     31 189 kbps     44 481 kbps     00:09:06.416    38 511 kbps     00:09:05.500    37 192 kbps     00:08:42.250    162 441 bytes   373 669 bytes   00:08:53.166    
3               0:15:01.750     0:08:23.666     30 692 kbps     47 496 kbps     00:18:36.833    39 770 kbps     00:18:43.875    37 515 kbps     00:17:48.000    159 852 bytes   374 932 bytes   00:18:46.791    
4               0:23:25.416     0:08:03.083     29 703 kbps     45 806 kbps     00:26:27.166    38 408 kbps     00:31:08.250    37 282 kbps     00:29:54.833    154 706 bytes   368 268 bytes   00:29:12.500    
5               0:31:28.500     0:06:41.375     31 746 kbps     50 791 kbps     00:31:42.208    39 151 kbps     00:31:42.083    37 422 kbps     00:37:49.833    165 342 bytes   368 076 bytes   00:36:40.291    
6               0:38:09.875     0:05:54.833     27 413 kbps     45 025 kbps     00:38:52.041    34 459 kbps     00:38:49.083    33 055 kbps     00:38:51.041    142 775 bytes   341 613 bytes   00:38:52.083    
7               0:44:04.708     0:06:25.750     30 415 kbps     43 981 kbps     00:45:21.875    38 427 kbps     00:45:27.166    36 452 kbps     00:44:05.500    158 413 bytes   345 595 bytes   00:50:25.125    
8               0:50:30.458     0:09:44.041     30 571 kbps     46 504 kbps     00:53:35.125    39 400 kbps     00:50:30.708    37 133 kbps     00:59:00.291    159 224 bytes   360 649 bytes   00:59:43.166    
9               1:00:14.500     0:05:55.166     27 217 kbps     40 952 kbps     01:00:53.416    35 942 kbps     01:03:52.083    34 493 kbps     01:03:50.791    141 754 bytes   353 072 bytes   01:04:57.125    
10              1:06:09.666     0:07:19.208     30 454 kbps     48 669 kbps     01:11:54.583    40 266 kbps     01:11:54.041    37 561 kbps     01:09:19.000    158 617 bytes   373 969 bytes   01:10:34.125    
11              1:13:28.875     0:04:12.458     30 848 kbps     42 279 kbps     01:15:42.666    38 284 kbps     01:16:26.041    35 629 kbps     01:14:35.875    160 668 bytes   357 033 bytes   01:15:05.583    
12              1:17:41.333     0:12:47.250     30 979 kbps     52 075 kbps     01:26:07.666    39 435 kbps     01:22:32.250    37 623 kbps     01:26:05.458    161 376 bytes   367 576 bytes   01:26:07.791    

STREAM DIAGNOSTICS:

File            PID             Type            Codec           Language                Seconds                 Bitrate                 Bytes           Packets         
----            ---             ----            -----           --------                --------------          --------------          -------------   -----           
00035.M2TS      4113 (0x1011)   0x1B            AVC                                     5541,500                29 872                  20 691 745 525  112 533 960     
00035.M2TS      4352 (0x1100)   0x80            LPCM            eng (English)           5541,500                2 310                   1 600 409 748   8 866 536       
00035.M2TS      4353 (0x1101)   0x80            LPCM            eng (English)           5541,500                2 310                   1 600 409 748   8 866 536       
00035.M2TS      4608 (0x1200)   0x90            PGS             eng (English)           5541,500                45                      31 107 052      179 986         


All thanks to the original uploader