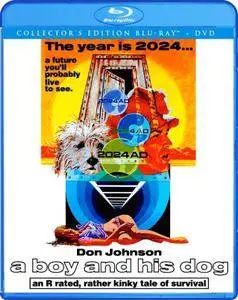 A Boy and His Dog (1975)
BRRip 720p | MKV | 1280 x 720 | x264 @ 2560 Kbps | 1h 30mn | 1,90 Gb
Audio: English AC3 2.0 @ 192 Kbps + Commentary track | Subs: English (embedded)
Genre: Comedy, Drama, Sci-Fi | Director: L.Q. Jones
Based on the novella by Harlan Ellison, A Boy and His Dog is set in a post-apocalyptic future where canned goods are used as currency and where entertainment often consists of old porn reels. Vic (Don Johnson) is a violent, illiterate scavenger, principally interested in getting laid. He communicates telepathically with his deceptively cute-looking dog Blood (voiced by Tim McIntire); Vic finds food for Blood, while Blood sniffs out girls for Vic. One of these girls is the sexy Quilla June (Susanne Benton), who, unbeknownst to Vic is a spy for an underground society, headed by a Mr. Craddock (Jason Robards Jr.). This subterranean civilization needs a human "sperm bank" to stay alive, and the oversexed Vic fills the bill. Produced by character actor Alvy Moore (Mr. Kimball of TV's Green Acres), A Boy and His Dog was written and directed by another veteran actor, L.Q. Jones.
Vic and his telepathically talking sheep dog, Blood, travel post-apocalyptic Arizona. Besides scavenging for food and sex, this movie features old, terrible porn clips, evil Amish looking people with clown makeup and possibly the greatest pun in movie history. Blood provides hilarious commentary to all Vic's endeavors, his comments while Vic and a girl he finds have sex are particularly entertaining. At parts, this movie gets so strange you can't do anything but laugh at it, which is definitely not a bad thing! A Boy and His Dog is not something that will ever be universally popular, but it is a great movie for late nights and all nerds. A classic piece of science fiction.
(Enlargeable)

Note:
- Audio commentary with director L.Q. Jones, cinematographer John Morrill, and L.A. Time film critic Charles Champlin