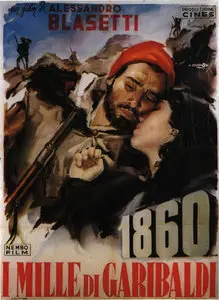 1860 / Gesuzza the Garibaldian Wife (1934) [Special Edition]
DVD Video, 2 x DVD9 | 1hr 13mn | PAL 4:3 | 720x576 | 4.96 Gb + 5.64 Gb
Italian: Dolby AC3, 2 ch
Subtitle: English, Italian
Genre: Drama
IMDB Rating: 6.8/10 (121 votes)
Director:
Alessandro Blasetti
Writers:
Alessandro Blasetti, Emilio Cecchi
Stars:
Giuseppe Gulino, Aida Bellia, Gianfranco Giachetti
The story is the harried attempt of a Sicilian partisan, as part of the risorgimento, to reach Garibaldi's headquarters in Northern Italy, and to petition the revered revolutionary to rescue part of his besieged land. Along the way, the peasant hero encounters many colorful Italians, differing in class and age, and holding political opinions of every type. There is a key train scene, and the film ends on the battlefield, Italian unification a success, despite brutal losses.
Disc 1. Contains:
- The restored 1933 version of the film (01:13:50)
- The original Italian ending
- Mario Caserini's silent Anita Garibaldi (1910) with Italian intertitles

Title: 1860.33.D1
Size: 4.96 Gb ( 5 197 098,00 KBytes ) - DVD-9
Enabled regions: 1, 2, 3, 4, 5, 6, 7, 8

VTS_01 :
Play Length: 00:00:27
Video: PAL 4:3 (720x576) VBR
Audio:
Italiano (Dolby AC3, 2 ch)
Subtitles:
Italiano
English

VTS_02 :
Play Length: 01:13:50
Video: PAL 4:3 (720x576) VBR
Audio:
Italiano (Dolby AC3, 2 ch)
Subtitles:
Italiano
English

VTS_03 :
Play Length: 00:00:41
Video: PAL 4:3 (720x576) VBR
Audio:
Italiano (Dolby AC3, 2 ch)

VTS_04 :
Play Length: 00:21:11
Video: PAL 4:3 (720x576) VBR
Audio:
Italiano (Dolby AC3, 2 ch)

VTS_05 :
Play Length: 00:01:44
Video: PAL 4:3 (720x576) VBR
Audio:
Italiano (Dolby AC3, 2 ch)

VTS_06 :
Play Length: 00:11:02
Video: PAL 4:3 (720x576) VBR
Audio:
Italiano (Dolby AC3, 2 ch)

Disc 2. Contains:
- The restored 1951 version of the film (01:09:19)
- The original 1933 version of the film taken from an archival 16mm print of the film with an Italian audio only (01:12:55)
- Original theatrical trailer for the film

Title: 1860.33.D2
Size: 5.64 Gb ( 5 909 826,00 KBytes ) - DVD-9
Enabled regions: 1, 2, 3, 4, 5, 6, 7, 8

VTS_01 :
Play Length: 00:00:27
Video: PAL 4:3 (720x576) VBR
Audio:
Italiano (Dolby AC3, 2 ch)
Subtitles:
Italiano
English

VTS_02 :
Play Length: 01:09:19
Video: PAL 4:3 (720x576) VBR
Audio:
Italiano (Dolby AC3, 2 ch)
Subtitles:
Italiano
English

VTS_03 :
Play Length: 00:02:45
Video: PAL 4:3 (720x576) VBR
Audio:
Italiano (Dolby AC3, 2 ch)

VTS_04 :
Play Length: 01:12:55
Video: PAL 4:3 (720x576) VBR
Audio:
Italiano (Dolby AC3, 2 ch)